At Trinity, we celebrate God's gift of music as a vehicle for the Word. Members share their varying gifts of time and talent, offering music to God's glory. We rejoice in this ministry as it enhances our worship experience, supports the work of the people, and carries the message of God's redeeming love to the world.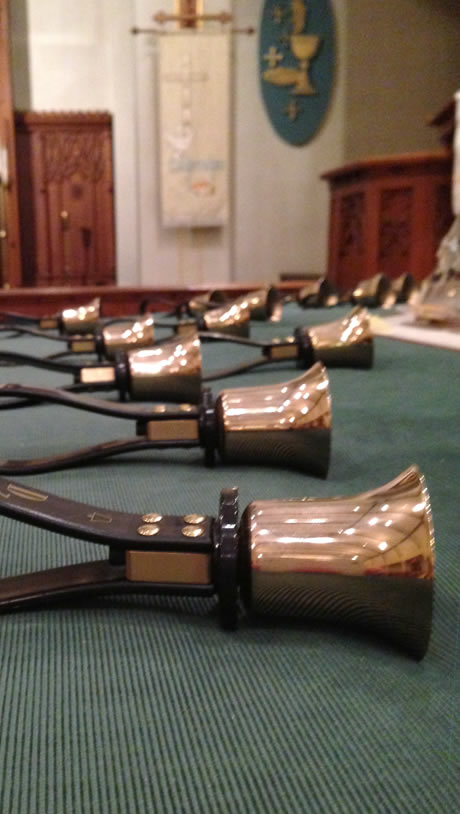 Our Music Ensembles
Our music groups are currently on break for the summer. The schedule is subject to change with the new school year.
Senior Choir (high school-adult) Wednesday 7:30-8:30 PM
Adult and Youth Bell Choir Sunday following worship
Elementary Choir Wednesday 5:00-5:30 PM
Handbell Quartet (adult) meets as schedules permit
Occasional Choir (adults, sometimes with children) meets 30 minutes before a given worship service to learn a simple anthem.
Vocalists, instrumentalists, and small ensembles (elementary school-adult) gather periodically.
Youth Education
In addition to the regular Sunday School classes for children and youth, Trinity also provides:
Church Night @ Trinity on Wednesdays
Church Night @ Trinity is currently on break for the summer. The schedule is subject to change with the new school year.
5 - 5:30 PM Elementary Choir
5:30 - 6:30 PM Intergenerational Dinner (RSVP to church office by previous Friday)
5:45 - 6:30 PM Adult Bell Choir, Sanctuary
6:30 - 7:15 PM Adult Education, Grades 6-12 Bell Choir, and Grades K-5 Education
7:15 - 8:00 PM Grades 6-8 Education and Grades 9-12 Education
7:30 pm Senior Choir, Sanctuary
Downtown Summer Vacation Bible School
We collaborate with First Presbyterian Church and other downtown Galesburg churches to provide a solid educational and relationship building experience for children.
Adult Education
Christian faith development and spiritual growth are key elements for adults as well. Opportunities available:
New member classes as needed
Bible study and discussion groups
Watch this section for additional information  as it grows to learn more about the ministries we do together at Trinity!
Partnering Ministries
Trinity supports ministries around the world such as the ELCA (Evangelical Lutheran Church in America) World Hunger Appeal.
A companion relationship with Kimandolu Lutheran Church of Arusha, Tanzania continues to be a source of spiritual growth and ministry for both congregations. Enjoy watching children of Kimandolu Lutheran singing "Come to Jesus" beautifully in this video.
Arusha is a city in northern Tanzania and the capital of the Arusha Region, with a population of 416,442 plus 323,198 in the surrounding Arusha District. Located below Mount Meru on the eastern edge of the eastern branch of the Great Rift Valley, Arusha has a temperate climate. The city is close to the Serengeti National Park, the Ngorongoro Conservation Area, Lake Manyara National Park, Olduvai Gorge, Tarangire National Park, Mount Kilimanjaro, and Arusha National Park on Mount Meru.
Arusha is a major international diplomatic hub. The city hosts and is regarded as the de facto capital of the East African Community. Since 1994, the city has also hosted the International Criminal Tribunal for Rwanda. It is a multicultural city with a majority Tanzanian population of mixed backgrounds: indigenous Bantu, Arab-Tanzanian and Indian-Tanzanian population, plus small White European and white American minority population. Religions of the Arushan population are Christian, Jewish, Muslim, and Hindu. (source)